Fly to Italy.....As Low as $839
Inexpensive flights between JFK and
Naples-Palermo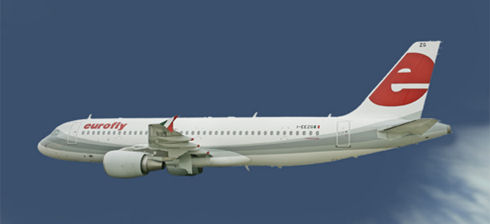 The Eurofly fleet, all recognizable by the large red "E" on the rudder of the aircraft, offers up-to-date comfort and dependability for today's demanding traveler. Eurofly has a modern fleet of aircrafts each with an average age of less than 4 years. This is an important asset in the market place to guarantee operating reliability, passenger safety and comfort. The A330-200, used for intercontinental flights, is equipped with 26 business class and 256 economy class seats. Each cabin has been designed to offer more space and more comfort.
A modern fleet and great destinations are the key factors behind Eurofly's success.
Business Class
Eurofly shines in providing the utmost in customer care to their business class passengers. Since time is of the essence for business travelers, Eurofly offers fast-track check-in desks and VIP lounges for their customers.
On board, passengers will find state-of-the-art cabins with roomy and comfortable seats. Each Sicma made-to-measure seat is equipped with electronic adjustable lumbar support and footrest. In addition, passengers are provided with personal courtesy lights, satellite phone, personal screens with 8 channels, 10 audio channels and 12 video games, offering a pleasant and entertainment-filled journey. During the flight, snacks and aperitifs are served. Italian meals complete with top quality wines from the on-board wine cellar are also offered while crossing the Atlantic.
Economy Class
The leading private airline in the leisure sector, Eurofly maintains high standards for their passengers traveling in economy class. Eurofly's new Recaro seats are designed for maximum comfort. Each seat is equipped with a personal tv screen, making your inflight entertainment enjoyable and carefree.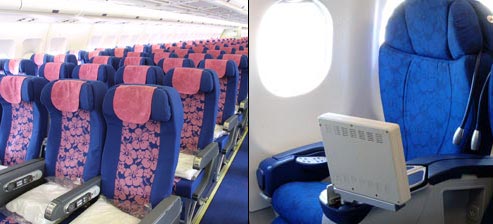 Eurofly, Italy's leading carrier in the "leisure" sector, welcomes you to an enjoyable and safe vacation from the moment you step on board.
From take off to landing, a team of highly trained flight attendants, will assist and cater to your needs during the journey by making you as comfortable as possible. Aboard the aircraft, Eurofly's goal is to provide a relaxing and comfortable flight experience for every passenger. Eurofly strives to provide maximum assistance throughout your flight making your transatlantic crossing as comfortable as possible.
Eurofly takes great care and attention to their in-flight services, from fine Italian cuisine to the newest in-flight entertainment, which can be viewed from your own personal monitor. You fly in total comfort thanks to the new Recaro seats designed to give you maximum comfort during your flight. The colorful seats by the noted Italian designer, Fiorucci, adds to the aircraft's attractive Italian style and a relaxing atmosphere.
All this and much more awaits you, when you fly Eurofly!